Tools & links I am talking about in the video.
Make Money Online Selling Your Knowledge
Selling your knowledge is a sustainable and meaningful business model. Start creating and selling digital products today in your own online store, and/or sell your knowledge and skills as services. If you are a creative or skilled person it is easy to make money online for free and without investment.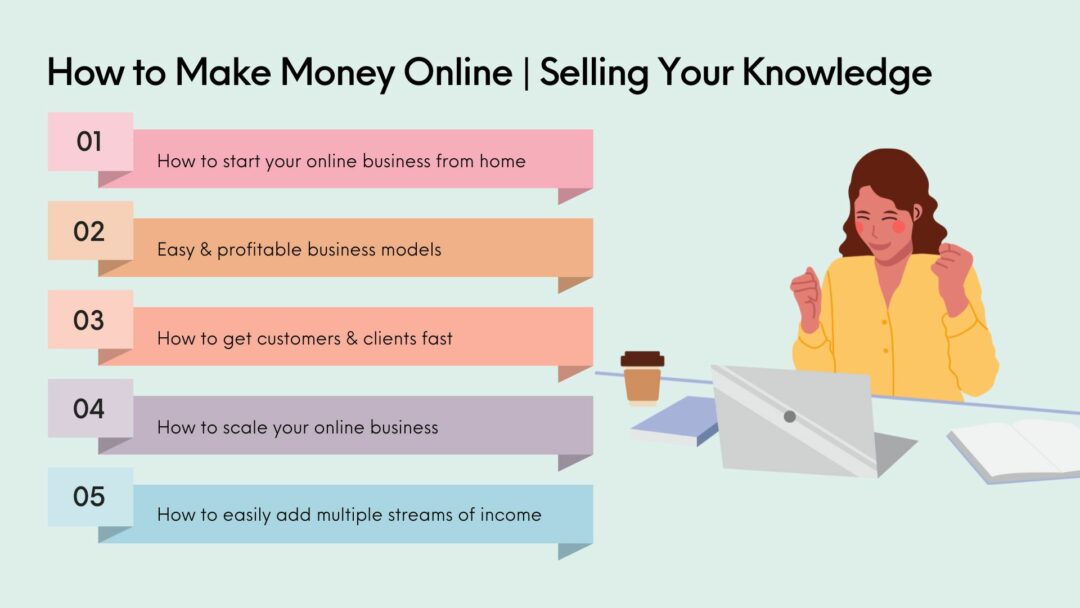 How to Make Money Online Easy and Fast from Home
In this video, I will give you a roadmap. You will learn how to get started fast, and to build a sustainable business helping people. You will learn what works right now and how you can build a sustainable business by being genuinely helpful. If you are a creative or skilled person, it has never been easier to make money from home helping other people.
Be Helpful & Generous With Your Knowledge & Creativity
If you can provide something that really helps people in one way or another, then it is easy to make money online. The best way if you want to start earning money online today is to start selling digital products. The best way in my opinion! Why I think that is the best way to do it? It is because that's what I am doing, so that's what I know something about. So you can watch other videos about other ways of making money online.
What Valuable Skills Do You Have (or What Skills Can You Achieve)
If you are a creative person, if you for example are a skilled photographer, or a skilled graphic designer, or a skilled copywriter – then it is easy to create products you can start selling in your own store, or Etsy or Shopify, or on another platform. And you can start making money already today. And you can build an audience really fast now if you are on Instagram or YouTube or TikTok – by posting reels. So, in this video I'm going to give you a roadmap so that you can start making money today fast and easy.
How to Make Money Online Fast & Easy
And the easy part – easy is when you're doing something you are skilled at! So start with something you think is fun and something you are really skilled at. If you are skilled that graphic design for example, you can start creating graphic designs – you can start creating website templates or social media templates. Let's take that as an example. So if you are creating templates you can open a store today.
How to Open Your Own Online Store
You can easily open a store by starting on a WordPress site and installing WooCommerce or if you want to get started even faster you can just make a website on Canva and you can link your products to a free checkout on ConvertKit. I will post the link below to an instruction on how to do that. Another alternative is that you can start selling your products on Etsy today.
But regardless of if you choose to sell on a WordPress site – on a Canva site or Etsy on another site – the most difficult part when starting out is to get customers. So you need an audience. You need to promote your products.
Post Organically or Pay for Ads?
It's expensive to pay for ads but you can do that even as a small player if you believe in your product. If you have a good product and if you have a good sales page and good ad copy, then you can start advertising right away and you can become one of the big players right away.
The reason why most people start by posting organically on social media is that they can test different strategies. It's a waste of money to pay for ads when you haven't got the product and the copywriting dialed in yet. But if you want to start promoting your products organically on social media today it has never been easier. I suggest that you make reels and short videos and that you post them on YouTube and Instagram, TikTok and Facebook. And simultaneously I want you to post Carousel posts and ordinary posts. That way you can build an audience fast.
Your Ideal Customer & Your Target Audience
It's important that you decide who your ideal customer is and that you start promoting your product organically, or paid, to your ideal audience. You can also start a Facebook group for your ideal audience and start promoting there. If there is a lot of activity in your Facebook group Facebook will automatically promote your group to more Facebook users.
How to create and sell digital products /…./ Continue watching the video
Cecilia

© 2022 Cecilia Elise Wallin
Tools and links I am talking about in the video.
Only the tools I use and love!

Some of the links above and below contain affiliate links, meaning I will earn a small commission when you purchase through my link at no additional cost to you. Affiliate links help creators like me to fund the free content and resources that we provide.